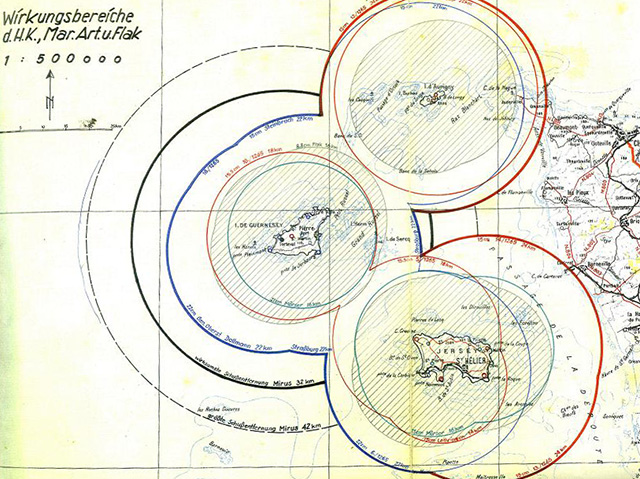 (Image from http://www.festungguernsey.supanet.com/about_us.htm)
Imagine an observer with a stereoscopic rangefinder and a telephone, camouflaged on a seashore. The observer is 3km ahead of a cannon located further inland for concealment. The bearing is between the cannon and the observer is, for the purposes of communication ease, zero.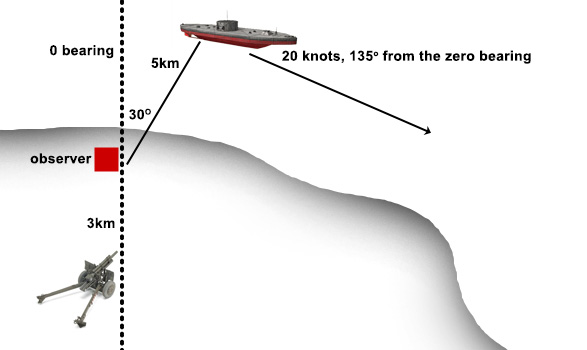 Now, for the math and geometry questions:
1. The observer sees a ship that is 5km away at bearing 30 by the rangefinder and compass. Assuming the ship is neither head-on nor in profile, how can the observer calculate speed and the direction of travel of the ship from observation? Assume no readily visible landmarks behind the ship.
2. Let's say that the ship is at this moment 5km away at bearing 30 as observed from the forward post. What are the distance and the bearing at this moment from the battery which is 3km behind the observer?
3. Let's say that the ship's direction of travel is 135 degrees from the zero reference bearing (going over the observer's right shoulder) and the speed is 20 knots (approx. 36km/h). If it took the cannon crew fifty seconds to calculate the firing solution, and the shell flight time is ten seconds, at which point relative to the cannon (distance and bearing) should the gun be aimed?
4. Assuming the ship is 100m long and the combined side and deck projection at the 30 degree angle of the shell impact is 25m, what is the probability of a first-round hit from the cannon with 1 minute of angle dispersion?
Having performed these calculations, meditate on the addition of gun platform movement to simulate ship to ship combat. Increase range to 10km. Increase dispersion over time as the barrels heat up. I am beginning to understand why ballistic computers and firing synchronizes (for shooting all guns at a consistent point in time during the wave roll) were such a big deal. And why trained specialist meant victory in artillery exchanges on land and sea. Upgrade the difficulty once more for air to air combat, and we see why gun turrets went away despite remotely operated guns with individual mechanical fire computers.
Maybe this is more like 7th grade, which would not have been beyond the 1930s students who spent more time on the basics.